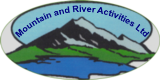 Mountain and River Activities Ltd are an AALA licensed multi-activity provider, and a Visit Wales Approved Adventure Tourism Operator.
Mountain and River Activities Ltd promotes the sustainable use of the landscapes we use for adventure, education and leisure activities. The aim is to ensure that adventurous activities do not negatively impact on our beautiful landscape we have a respect for the environment in which we live and work, with a low impact sustainable use environmental policy.
Mountain and River Activities aim to provide the highest safety standards for our clients and employees involved in adventurous outdoor activities. Outdoor adventure activities involve an element of risk; it is recognised that this is necessary to provide an appropriate level of challenge and through skilful management, it can stimulate and encourage personal and social development. However, safety is of paramount importance, and Mountain and River Activities ensures that the level of risk is managed and acceptable in order to maintain appropriate safety standards.
We aim to provide high quality exciting and enjoyable outdoor experiences with safety paramount.