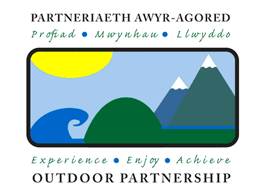 The Outdoor Partnership
The Outdoor Partnership is a registered charity improving lives through outdoor activities.
The Outdoor Partnership is unique in that no other comparable organisation exists in the UK with the same vision and mission of improving opportunities for more people in Wales to achieve their potential through outdoor activities.  The outcomes of Outdoor Partnership's programmes are currently a benchmark for other regions in Wales, the UK and further afield.
Since its establishment the Outdoor Partnership has established sustainable, community-led outdoor activity clubs across North Wales; provided NGB qualifications for over 4000 volunteer leaders with a SROI of £10 million; created over 100,000 outdoor activity opportunities on a county, regional and national level through participation, education, volunteering and employment programmes, improving people's health, social and economic well-being.  The charity's programmes have increased the number of indigenous Welsh speaking instructional staff in North Wales over the last 10 years from 4 to 25 (Bangor University research 2003 & 2013).